Proven food waste solutions
for Colleges & Universities
Because dining services need sustainable solutions
Campus dining faces unique challenges: a heavy reliance on all-you-care-to-eat, which can easily lead to overproduction. Younger students demanding sustainable practices. And competition from off-campus options. Colleges and universities need to be as sustainable and efficient as possible with their food purchases. Preventing food waste is a critical ingredient. With deep experience in the segment, Leanpath has proven solutions to reduce food waste in campus dining.
"Leanpath was critical in helping pinpoint the time of day and stations where waste was occurring. In less than one year we reduced pre-consumer food waste by 49% year-over-year and lowered plate cost significantly."
Lead your campus on sustainability
We call food waste an "environmental nexus issue," because when you prevent food waste, you are addressing some of the planet's most pressing sustainability concerns. When you stop buying food only to throw it out, you stop contributing to the greenhouse gasses that food waste produces. You no longer squander the water it took to grow that food. And you quit using the energy–power and human energy–to prep that food. By addressing food waste, you impact your campuses most important sustainability issues. And with Leanpath you have the data to prove it.
3rd
If global food waste were a country it would rank just behind the US and China in greenhouse gas emissions

45 trillion
Gallons of water squandered each year growing wasted food
Engage your staff–and students
Food waste prevention–and the financial and environmental benefits that come from it–turns daily kitchen work in a mission-driven job. The humble frontline foodservice worker is, in fact, the global changemaker in the fight against food waste. Leanpath makes it easy to engage staff around this mission. When food waste is tracked, staff immediately see the financial and environmental impact of that waste. Email updates let staff understand and celebrate food waste reduction success. Leanpath also makes it easy for students to engage in the mission. 
"The staff really like the technology. It's made it easier and quicker to report [compared to manual tracking]. It is nice to pull the reports and identify where to focus our attention."
Educate and inspire your diners
Showcase your organization's sustainability efforts with Leanpath Spark digital signage. Bring post-consumer food waste (plate waste) information to life on displays, combining high-impact messaging with real-time feedback loops.
Best for all-you-care-to-eat operations
Install in the front-of-house to educate consumers or in the back-of-house to inform kitchen staff about food waste priorities
"Leanpath is easy. It doesn't take a lot of training. And you get the information you need without having to calculate it yourself. At the end of the year it's amazing to see how much waste we've reduced."
Drive savings straight to the bottom line
Food waste prevention is the only strategy that stops waste from happening to begin with. While diversion to compost or donations have their place, they only deal with food waste after it is created and after you've incurred the cost of purchasing and prepping that food. Just like food waste is an environmental nexus issue, it is also a financial nexus issue. You pay for food waste five times: when you purchase the food, when you invest labor in the food, when you use energy to prep the food, when you pay to have the food waste hauled away, and when you lose profits from that food waste. Typical college and university kitchens see 4-10% of the food they purchase go to waste. Leanpath cuts that in half.
Build a kitchen culture of food waste prevention
Senior Executive Chef Tony Pignagrande and his crew at the University of Rochester in New York State have cut their food waste by 46 percent. 
"There are savings, because we're buying less food," he says. "And we're shipping less food so that helps the environment. But ultimately, it says our operation is running effectively. It shows efficiency. It shows that the team's engaged. It shows that our chefs are training proper knife skills and batch cooking. When the team is trained properly, the food is prepared the right way and the guests are satisfied. Preventing food waste encompasses all that."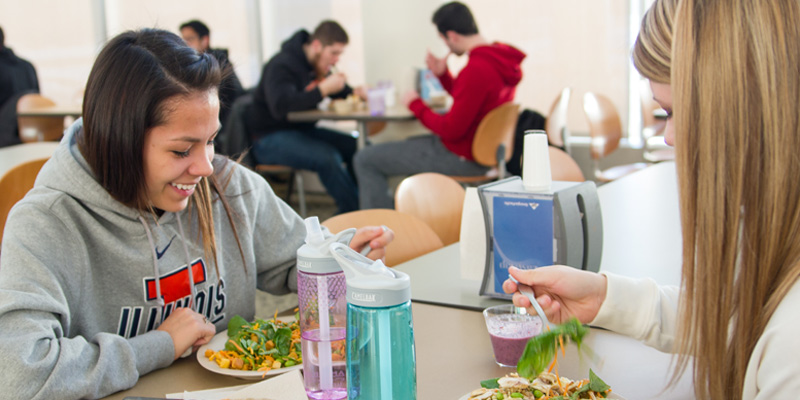 Know where to focus your food waste efforts
Based on Leanpath data, the University of Illinois new the salad bar was a big food waste driver, as well as overproduction. Their focused efforts led to a 63% reduction in food waste.
University of Notre Dame
68% reduction in food waste.
Food waste photography helped to identify savings opportunities.
Arizona State University
74k
meals saved.
How Arizona State University built a more efficient kitchen.
US Coast Guard Academy
34,000 lb reduction in waste weight.
Data provided the chance to take action.
Share these resources with your culinary team
and get started preventing food waste today
25 Food Waste Cutting Tips
A guide for College & University foodservice
Empowering & Engaging
Culinary teams to prevent food waste.
Preventing Food Waste at the Salad Bar
A guide to best practices and creative new ideas.
In a brief call, a Leanpath food waste expert can help you understand the problem of food waste, create a custom review of what you can save by preventing food waste in your kitchens and discuss the best Leanpath solution for your operation.