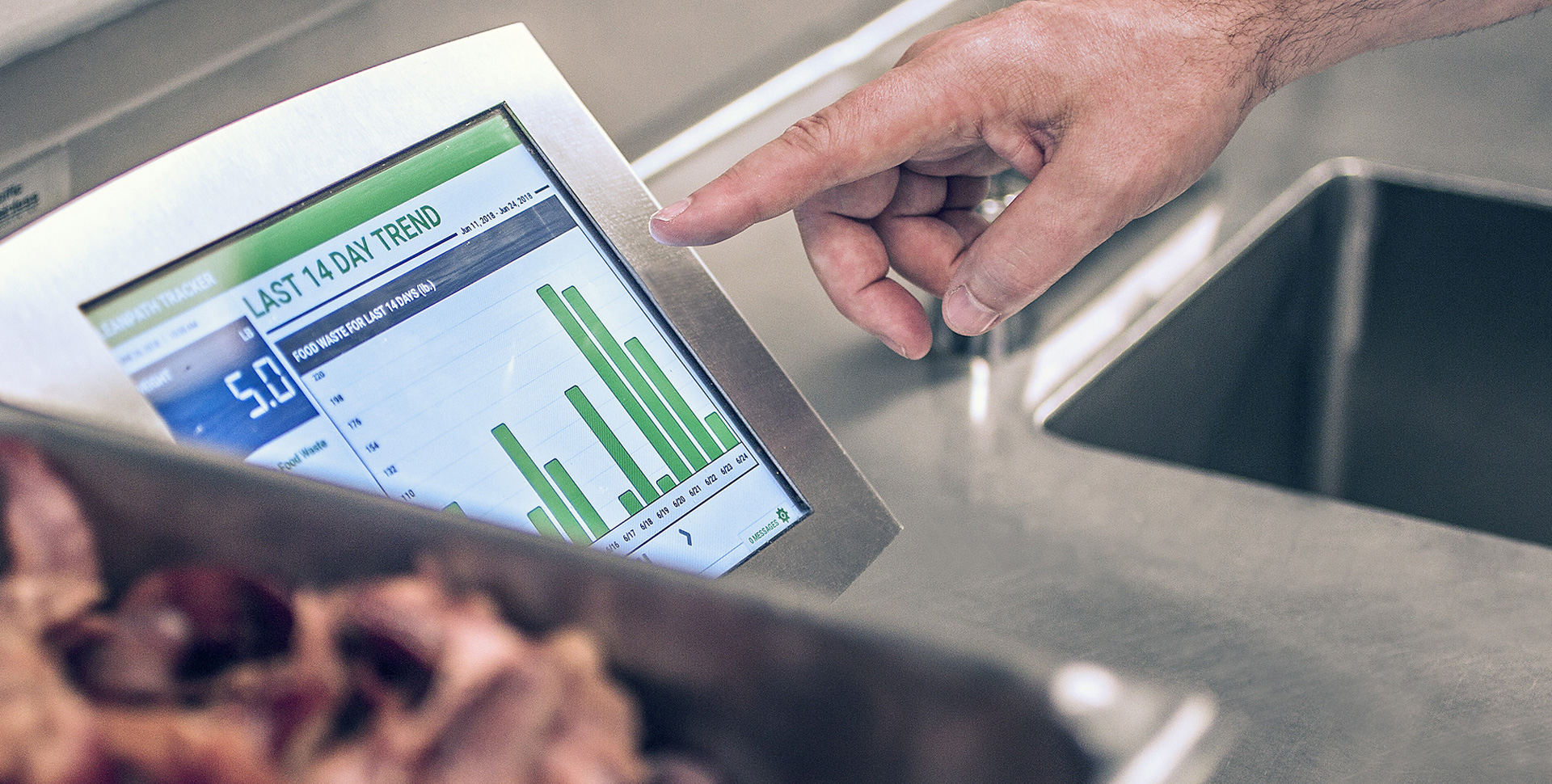 Take Control
Prevent food waste
before it happens
Technology that makes food waste prevention easy
Leanpath makes food waste prevention solutions for all foodservice settings. Our in-kitchen food waste trackers allow you to easily and immediately see the financial and environmental impact of that waste, educating staff on the spot. Data is automatically uploaded to Leanpath Online, our powerful, cloud-based analytics platform that directs clear and actionable insights on how to prevent your waste and cut costs.
Leanpath 360 and 360-AI Series 3
Our flagship food waste tracking station with integrated camera, scale and display. And now, easily upgrade to AI-powered auto classification, saving time and increasing accuracy. The 360 image capture allows chefs to see what is being wasted and why in a way they can't with data alone. Our Series 3 upgrades include more robust engineering and more detailed food waste photography.
360: High volume kitchens that want the most detailed food waste tracking available.
360-AI: High volume kitchens with standardized menus who are looking for the fastest most accurate food waste tracking available. Learn more.
Leanpath 360 Floor Scale Series 3
Our floor scale Tracker seamlessly integrates with kitchen workflows, perfect for the highest-volume kitchens, where disposal speed across complex menus is critical. Series 3 upgrades include more robust engineering, like IP67-rates scale for full washdown.
Fast, integrated pre- and post-consumer food waste tracking.
A food waste Tracker that fits the bill for medium-volume kitchens. It's smaller footprint lets Scout fit easily into a busy kitchen, while its integrated scale allows for fast, easy tracking. A lightweight option that drives big food waste reduction and quick ROI.
Lower-volume central kitchens, secondary and satellite kitchens, including catering.
A stand-alone touchscreen loaded with Leanpath tracking software, giving you flexibility for low-production environments. Bright, widescreen and IP65-rated, the Tracker can measure food waste by weight (with a separate scale) or by item. Wall-mounted or equipped with a bench stand (pictured).
Smaller operations with space constraints or budget limitations.
Our food tracking application available in a tablet-only solution. Great for low-volume or satellite operations. For use with a separate scale or by  tracking items by quantity. Convenient and flexible.
Smaller operations with space constraints or budget limitations.
Leanpath Go is a mobile, tablet-only Tracker that allows you to measure food waste quickly by the quantity, instead of by weight. Specifically designed for operations with pre-packaged menu items. A picture-based menu, and fast multi-item tracking allows for quick and easy food waste measurement that goes where you go.
Grab-and-go, QSRs, coffee shops and convenience stores.
Leanpath Spark incorporates our floor scale and digital signage integration for food waste tracking, education, and action. Track post-consumer waste and educate consumers on the impact they can have by helping to reduce it. Finally, a way to drive behavior change to reduce post-consumer food waste.
All-you-care-to-eat operations seeking to educate their diners and change behavior.
COACHING
Ongoing customer success coaching, on-demand technical support, and insightful waste analytics consulting.
ALERTS
Customized email alerts let you know what's happening in your kitchen in real time.
REPORTING
Get complete reviews of your food waste prevention efforts delivered straight to your inbox in clear, actionable daily and weekly reports.
See why so many foodservice and hospitality leaders use the Leanpath platform