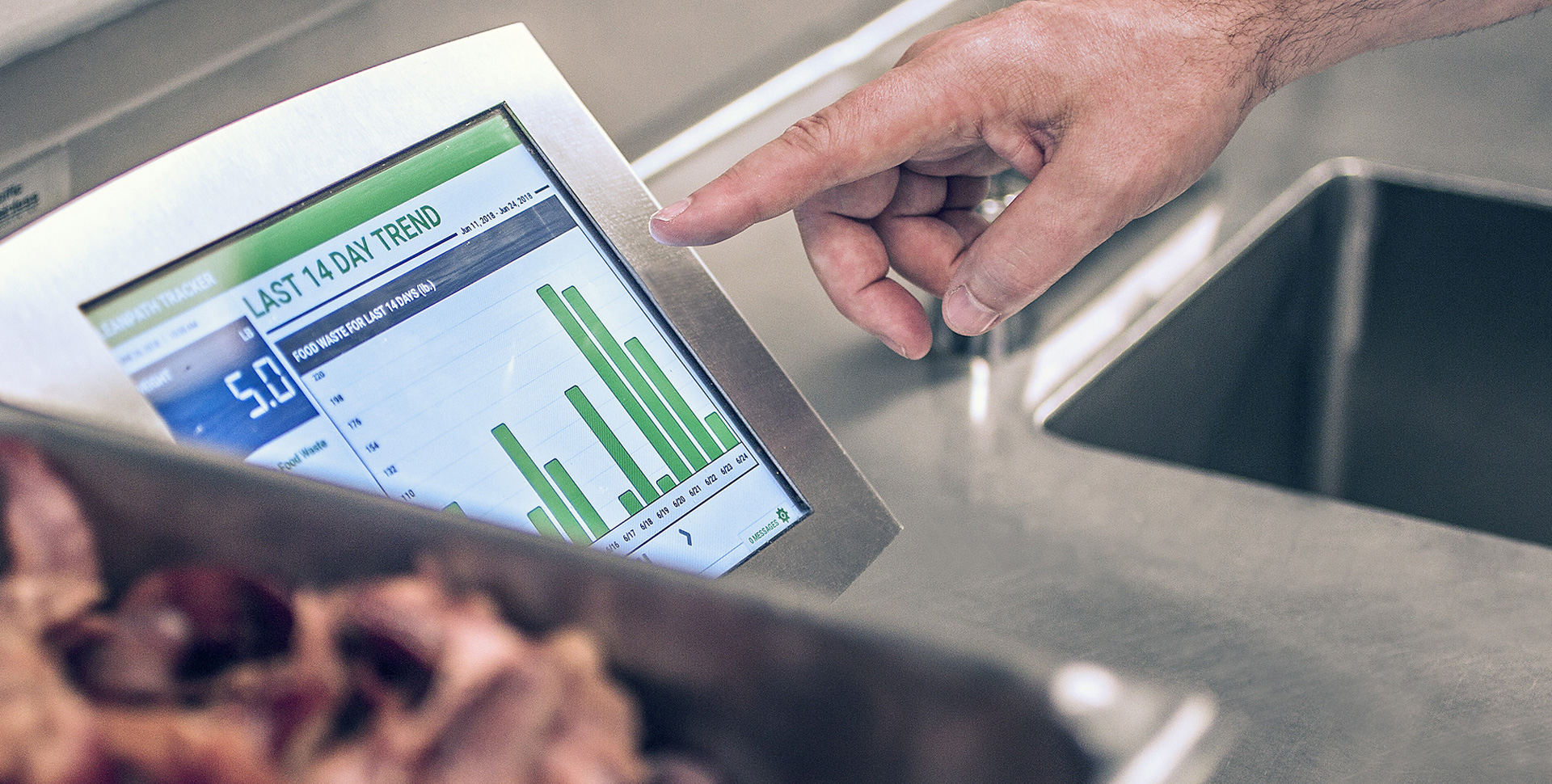 Take Control
Prevent food waste
before it happens
The Leanpath Food Waste Prevention Platform
The Leanpath Food Waste Prevention Platform is a combination of hardware, software and customer success programs that deliver food waste prevention results for any kitchen. Following our proven formula of Track – Discover – Drive, the Leanpath Platform ensures fast and lasting food waste prevention.
360BS - Slider
Leanpath 360 Bench and 360-AI Series 3
Photo capture bench scale, now with an upgrade to AI-enabled tracking
360FS - Slider
Leanpath 360 Floor Scale Series 3
Fast, integrated pre- and post-consumer food waste tracking.
Scout - Slider
Fully-integrated Tracker optimized for tracking in medium-volume kitchens.
Station - Slider
Small-footprint tracking option for any foodservice environment.
Zap - Slider
Small-footprint tracking option for any foodservice environment.
Go - Slider
Mobile Tracker built to track portioned items quickly and easily.
Leanpath is
Enterprise Ready
TRACK across multiple sites: Multi-site and global organizations have varying kitchen sizes and needs. Leanpath matches Trackers across your enterprise to make sure each site has the solution that delivers results.
DISCOVER food waste prevention opportunities.
Data from your food waste Tracker is transformed into clear insights with Leanpath Online, our powerful, cloud-based analytics dashboard. Finally get a complete view of what your kitchen is wasting and understand why. Start at the top with  trends and top wasted foods and with a few clicks, drill down into individual transactions. Easily view performance data for single and multi-site programs.
Leanpath is
Enterprise Ready
DISCOVER opportunities in one kitchen or across an organization: Leanpath Online provides actionable insights at the kitchen-level, and clear visibility into global, multi-site performance at the enterprise level.
DRIVE results with the NEW Impact Suite of prevention tools.
Impact Suite is a powerful new set of tools that go beyond tracking food waste to actually guiding kitchens through specific actions to reduce their largest food waste issues. The Impact Suite is built around three modules:
Goals scans food waste data to identify a kitchen's top food waste opportunities and creates action plans to address that waste. It monitors, reports on and notifies chefs of progress on a daily and weekly basis.
Shared Goals takes the power of Goals and gives it to multi-site managers, allowing them to push action plans to groups of kitchens, aligning large teams around common objectives.
Alerts notifies chefs and managers in real-time when their Goal items are being wasted, or when other high priority waste items have been recorded with Leanpath Trackers.
Leanpath is
Enterprise Ready
DRIVE globally, act locally: Food waste prevention happens kitchen by kitchen, one staff member at a time. Leanpath empowers that localized action to be coordinated through robust enterprise-tools like Shared Goals. Reach corporate financial and sustainability goals, with your kitchen teams all working together.
Robust support and expert coaching throughout your food waste journey.
Leanpath draws on nearly two decades of experience driving food waste prevention in every foodservice segment to inform your customer success program. In all stages of your journey, your food waste prevention work is supported by expert training, coaching and support that ensure you have quick and lasting success.
Leanpath is
Enterprise Ready
Customer Success optimized for global organizations: Roll out large, multi-site programs quickly and predictably and receive dedicated support from Leanpath customer success teams who understand your goals and company culture.
In a brief call, a Leanpath food waste expert can help you understand the problem of food waste, create a custom review of what you can save by preventing food waste in your kitchens and discuss the best Leanpath solution for your operation.